You open another office because your company is growing. Some people move there, and you are proud that the company gets bigger. But it makes you worry at the same time. What about communication between employees who used to stay in the same office? They use Zoom, write code, and send memes somewhere in group chats. This happens inside the team that is working on one project. A group of people has a common task, and their conversations are based on this. The team works well but sometimes they want to have informal talks.
"Virtual Okno" lets employees have instant communication to improve conversation speed. They can just ask each other in a chat to go to the window and solve issues by small talks. There is no need to spend double time for organization 5 minute meetings. By the way, anyone is able to throw spoilers on a new film or discuss plans for the weekend. It is OK if your friend doesn't mind.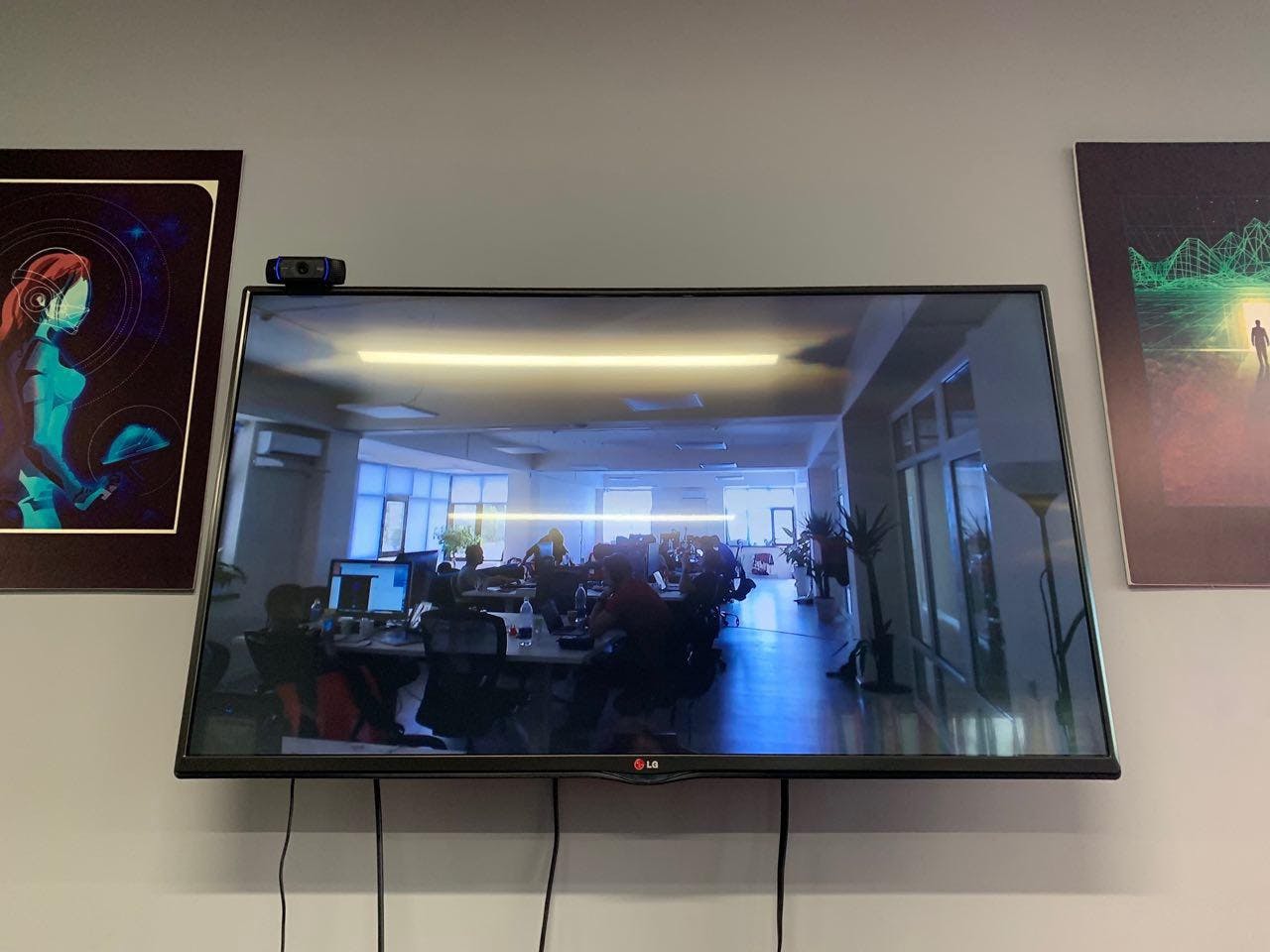 The bridge between "south" and "north"
We recently opened a new office and part of the employees moved there. Mad Devs divided into "northerners" and "southerners." Just because of the geographical location of the offices in the city. We understand that something will have to be done with communication. Yes, there are calls "on business" but this does not always help to expand interpersonal relationships.
"Virtual okno" is a window that allows you to connect remote offices using cameras and screens at both ends. The project has minimum requirements. The solution is implemented using the equipment of streaming video and audio systems, a single-board computer Raspberry Pi, as well as open-source code.
"Window" allows you to see another office online 24/7. Any employee can come up to the screen, wave a hand, and complain about the weather. This action removes physical borders and reduces the distance between employees.
The project is being implemented in collaboration with the CTO of art, events, and coworking space "ololo" — Pavel Isaenko. The idea has come to his mind when there was a need to connect people within coworking spaces.
"Virtual Okno" on GitHub
We hosted open source projects that have improved the processes within the company. The "Virtual Okno" project is the very tool that we use and enjoy the result. The project is currently developing and there are still features to be implemented. We are always happy to get feedback and pull requests!