Every day we get more and more requests for the development of mobile apps. Everyone wants a mobile application, starting from event makers and shopping malls and up to photo studios and printing houses. The development of mobile applications is definitely justified in the case of working process automatization systems. Yet all other requests for the development of mobile applications are doubtable.
The doubts may be explained by the stats of developed countries: though the number of mobile users is increasing, their willingness to install new mobile apps is very low. This is really so. Therefore, it is worth to think about more reasonable ways to spend the budget.
In particular, we suggest our clients to consider the development of PWA — Progressive Web Application — instead. PWA is not inferior to mobile applications in terms of capacities. In fact, it is a mobile version of the website which is opened in mobile browser, but with some features that significantly improve the user experience.
1. The high speed of website loading
PWA optimization standard requires the highest speed of the website loading even with the weak internet connection. This means that images and content are optimized in such a way that a user gets the page loaded in just a few seconds.
2. Works Offline
PWA has an option to set up additional cachin, so users do not see empty screen instead of pages they've visited before. It definitely doesn't mean a user will never need the internet, especially if the content is dynamic. It only means the user will get some content before the server updates and will not see unpleasant errors as it often occurs in mobile apps.
3. Immediate update of the application
Since PWA is a web-application, any changes in code appear on the user's device right away. There is no need for updates from AppStore as in case with mobile applications.
4. Simplified support for Android and iOS versions.
PWA works on every device with mobile browser Chrome or Safari and it is not necessary to think about the support of different Android or iOS versions (developers know how tough it is sometimes).
5. Users should not go to App Stores and install applications on their smartphones
The user should just open the link in a browser and he will be immediately redirected to PWA — easy. It is not necessary to think how to motivate users to install your app.
6. PWA increases conversion
The reason is the interface of PWA — it looks like mobile application — fast and simple (not like adaptive websites on smartphones usually do). Herewith, it is still a web-application, i.e. the website in mobile browser. And it is much easier to attract people into the browser than persuade them to download the app. All these together increase the user conversion.
7. The timeline for PWA development is shorter than for native app
The first reason is that PWA has one common code base for Android and iOS. It means twice less development, twice less testing and no wars with App Stores to persuade them that you do not violate any of their rules.
8. The cost of PWA development is relatively lower than the cost of native app development
It is obvious on the assumption of the 7th point. The less work — the less cost.
Today PWA has only one shortcoming and that is temporary: Safari browser on iPhones does not fully support PWA. However, the development is in full swing and Apple promises to add the full support this autumn.
Other objections of the clients that need clarification:
1. Since user does not need to install PWA, he will not have an icon on the main screen
PWA has an option of adding the icon on the main screen of the smartphone. If the user really needs frequent access to PWA, he will take advantage of it. If not, then do you really need inactive user who will sooner or later delete the application and make download stats worse?
2. How to send push-notifications to the clients if there is no application?
PWA has this option too. By the way, this option is also available for the desktop websites if it was implemented by developers. Notifications are perfectly sent and look like push-notifications on the smartphones even if PWA page is closed at the moment (it is in no way inferior to the standard push-notifications in applications).
3. It is still an optimized website rather than application, isn't it? But we want an application
Why do you want so? Is it because everyone has an application? Look beyond your competitors on the local market. Be guided by the world companies that form trends. At their markets hybrid applications perfectly work for several years already. And it is not in vain.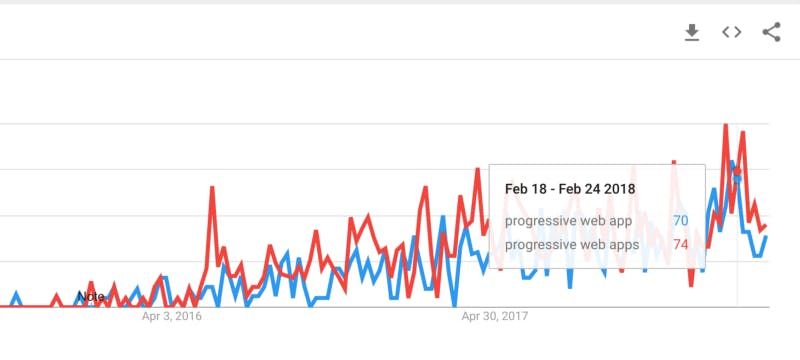 Growth of interest to PWA in Google Trends
So, native applications now are not necessary at all?
Native applications are necessary and useful for the services that users constantly operate with — messengers, food delivery apps, maps, etc. For such services people are ready to go to App Store and set an icon on the home screen since they use these applications CONSTANTLY.
However, if you rely on the users who buy your services on a monthly basis and are not attached to your company with personal profile, bonuses and other benefits to visit application often, then you will have few installations, few users and many deletions (by the way, the last thing negatively influences the app ranking in App Stores).
Therefore, before spending tons of money for the development of questionably-necessary native applications, you should seriously consider the option of PWA development. Its development is often cheaper, easily run and updated. In addition: you need only one advertising budget for the website promotion! (instead of separate budgets for the promotion of website, applications and whatever else).
Wish all success and prosperity of business!