Digest #7: November 2022
How to optimize operational and cloud costs for uncertain times?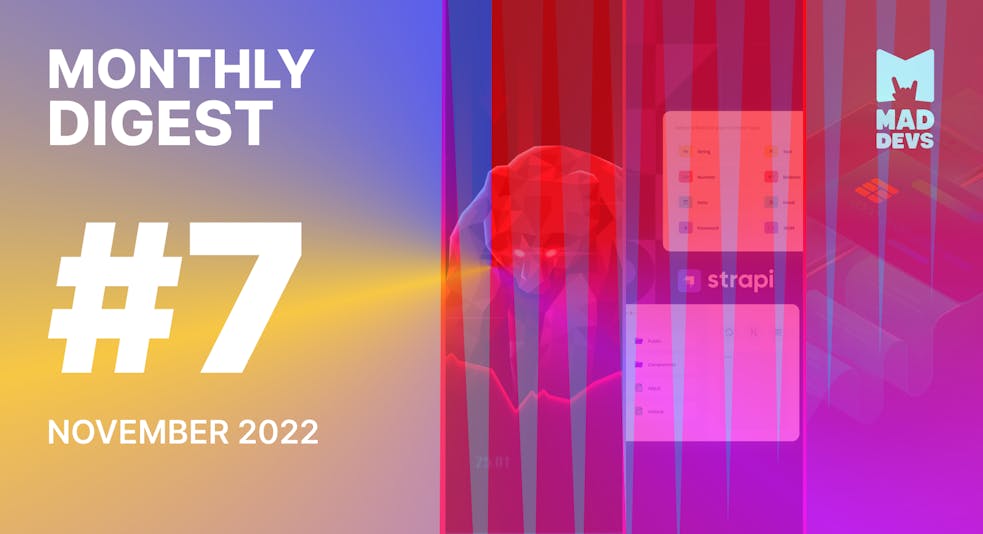 Top articles of November from the blog:
How to Optimize Development Costs: Strategies and Best Practices
The market is in a position where all budgets are being greatly reduced, and investment in research and development is becoming riskier. Many companies now find themselves needing to better manage their costs rather than trying to enter new markets or provide groundbreaking solutions.
It looks like this will continue in 2023 at best and maybe even to 2025. And to survive in these conditions for such a long time, it is not enough for companies to simply reduce costs. They need to optimize all of them. And that's why we're here. Believe us, Mad Devs has been practicing this from the beginning, which is why we are growing even now, and we have something to share with you!
Created:

Nov 03, 2022

Updated:

Sep 01, 2023
13 min read
Learn more
Strapi: Things to Keep in Mind Before Migrating to This CMS
Our site has been working with one well-known CMS for a long time. But lately, our team occasionally encounters some problems which make the process of working with content on the site heavier. Therefore, it was decided to test and study another CMS — Strapi.
Strapi, as a CMS, gets a lot of good reviews and has attractive merits. However, its functionality hasn't suited the needs of our site and our team. But during the work on the new CMS, we found a lot of subtleties that we hadn't thought of in our project. Thanks to this material, we hope you can save a lot of your time if you're looking for a new CMS and your needs are the same as ours.
Created:

Nov 29, 2022
9 min read
Learn more
What You Should Know Before Building Digital-Only Banking App
There are an increasing number of convenient banking apps on the market. Statista reports that more than 65% of Americans already use digital banking services. Another study says more than 800 million active users of online banking in the Asian market is the highest adoption level.
Some people associate FinTech only with payment systems and digital banking. In reality, it encompasses all technological innovations in the financial sector. This article outlines the fundamental steps in how to create an online bank. Also, we will overview popular startups. Moreover, we will determine the global digital banking market size, what benefits you will have from digital banking, and what features you need to include.
Created:

Nov 09, 2022
22 min read
Learn more
Vulnerability Testing vs. Penetration Testing
The global security and vulnerability management market was valued at $13.8 billion in 2021 and is expected to reach $18.7 billion by 2026, growing at a CAGR of 6.3% during the forecast period. (c) Markets and Markets
The market's growth is primarily driven by the increasing number of cyberattacks and data breaches worldwide. With the growing number of attacks, organizations are under pressure to find and fix security vulnerabilities before attackers do. This article will take a detailed look at Quality Assurance, especially its essential tools, Vulnerability Testing, and Penetration Testing.
Created:

Nov 14, 2022
10 min read
Learn more
Get monthly newsletter
All the most interesting from Mad Devs of the month in one short letter.
Cloud Cost Optimization Case Study
Find out how Mad Devs helped to get monthly savings of about ~$4800 in the Fintech project after two weeks of our DevOps engineer's work.
Get Started
Mad Devs' Trusted Sources
Your corporate holiday-gift-giving guide
If you're debating the perfect gift for your boss, your office's white elephant gift exchange, or the intellectual in your life, consider the gift that keeps on giving: a good book. Not only is book-wrapping a breeze (or not required if you opt for the digital version), but a book can travel anywhere, educate, and inspire time and time again.
Change management: Why it matters, and how to make it stick
As organizations ramp up their digital transformation investments, change management is coming into focus as a critical factor in seeing those investments pay off. Yet companies tackling change frequently face gaps between strategy and execution and the challenge of gathering the resources and commitment to see it through. In this edition of Perspectives, Thoughtworks experts take apart some of the common misconceptions about change management, providing advice on how to see it through and best practices to achieve the often elusive goal of making change last.