Digest #8: December 2022
How do we save about ~$10,000 a year using Self-Hosted GitLab?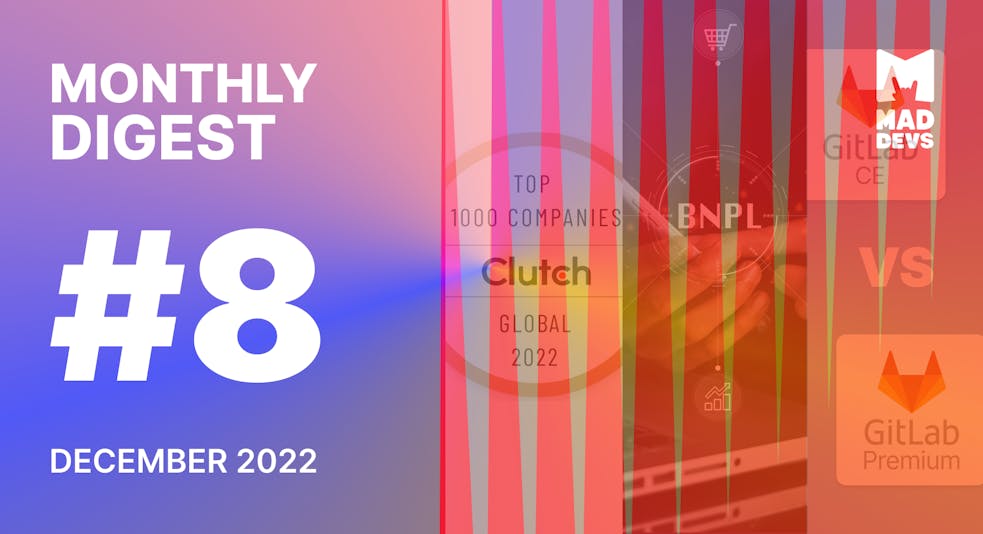 Top articles of December from the blog:
BNPL Unicorns That Are Changing the Fintech Industry
Buy Now, Pay Later (BNPL) is a Fintech solution that allows consumers to purchase items now without having to pay instantly. There are two main differences between it and a regular credit card. In contrast to a credit card, BNPL arrangements often don't charge interest or fees. Second, BNPL providers have a fixed repayment schedule — usually several weeks or months — unlike credit card providers that require monthly payments.
The Coronavirus pandemic accelerated online shopping growth, making BNPL increasingly popular. Let's figure out what it is, and, using examples, we will analyze why this system has become popular.
Created:

Dec 01, 2022
14 min read
Learn more
What's Wrong with Popular App Clones and When You Need Custom App Development
According to estimates, the mobile app market will grow to over $935b. in 2023. This is a huge opportunity for small businesses as it allows them to connect with their customers.
Due to the emergence of the on-demand economy, various techniques have been introduced to the app development industry. While some companies focus on creating applications for individual consumers, others have been able to disrupt the industry by developing clones of established leaders.
So are you interested in developing an app similar to some popular apps like Uber, Netflix, and Amazon? Check our article first to understand clone applications' benefits and potential risks.
Created:

Dec 16, 2022
10 min read
Learn more
Leading Payment Gateways in Vietnam to Start Your Business
According to the SEA 2022 report, the SEA digital economy could reach up to $1T GMV by 2030. However, it is worth giving credit to Vietnam for its awareness of the region's potential and for actively promoting its development. According to the same report, Vietnam is one of the frontrunners in this growth, and the capitalization of its digital economy could rise to $49B by 2025 and to $120–200B by 2030.
Get a deeper insight into the reasons and prospects for such active digitalization in Vietnam. In this article, we will delve into the digitization of financial services and which payment methods remain popular or are actively gaining popularity at the moment. We will also talk about which top solutions are already built on them.
Created:

Dec 14, 2022
14 min read
Learn more
How Do We Save About ~$10,000 a Year Using Self-Hosted GitLab
In October 2022, GitLab changed its subscription model. There are three types of subscriptions: Free, Premium, and Ultimate. So, switching to a paid subscription or looking for alternatives became necessary in large teams and projects.
Like other IT companies, we always look for ways to optimize costs and improve efficiency. This blog post will describe how we moved to Self-Hosted GitLab and saved about ~$10,000 a year for a client.
Created:

Dec 22, 2022

Updated:

May 26, 2023
5 min read
Learn more
Get monthly newsletter
All the most interesting from Mad Devs of the month in one short letter.
Clutch's Top 1000 Global Companies for 2022
Mad Devs Named Among Clutch's Top 1000 Global Companies for 2022
We've been recognized as a Clutch leader in the custom software development industry and one of Clutch's Top 1000 Global Companies for 2022. For context, Clutch is an independent B2B review and market research platform and a company ranking site dedicated.
Created:

Dec 21, 2022
3 min read
Learn more