Digest #16: August 2023
Learn more about choosing a metaverse development company, how smart buildings work, and enterprise learning management systems in our August newsletter.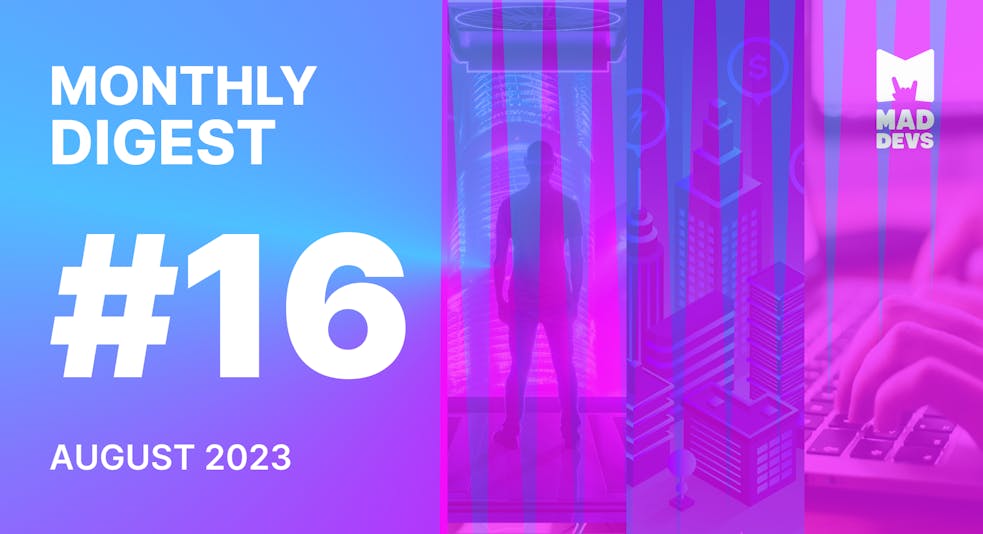 August recap: top articles from our blog
How to Choose a Metaverse Development Company
The metaverse represents a new frontier in digital innovation, transforming the way we interact, connect, and conduct business. However, choosing the right metaverse development company can be daunting and fraught with unique challenges. With this guide from our Web3 Delivery Manager, Mamed Nuriev, you can confidently navigate the complexities of metaverse development, pick the right team and technical stack, and embark on a journey to shape the future of digital interaction.
Created:

Aug 30, 2023
15 min read
Learn more
What Are Smart Buildings and How Do They Work?
Environmental sustainability has become a pressing concern, and the concept of smart buildings emerges as a promising solution to address energy efficiency, occupant comfort, and overall resource optimization. Smart buildings integrate advanced technologies, interconnected systems, and data-driven strategies to create an intelligent, eco-friendly infrastructure.
In our article, we delve into the core principles of smart building technologies and explore various infrastructure elements, as well as use cases demonstrating the potential for creating a greener future.
Created:

Aug 03, 2023
12 min read
Learn more
Enterprise Learning Management System
Gone are the days of dull, traditional employee training. Today, corporate learning management systems are revolutionizing how businesses educate their workforce. These systems offer easy access to learning materials, track progress, and enhance employee skills, productivity, and onboarding efficiency. 
In this article, explore the key features, use cases, and top players in the saturated LMS market, along with our experience using a popular tool.
Created:

Aug 16, 2023
12 min read
Learn more
ChatGPT vs. Google Bard: Which Is Better for Developers?
In recent years, generative AI has emerged as a game-changer for programmers, ushering in a new era of possibilities in the coding world. By harnessing the capabilities of advanced language models, developers can now navigate complex code writing and debugging with unprecedented ease. 
However, as competing tools like ChatGPT and Bard come into play, the question arises: Which one reigns supreme for programming tasks? 
Created:

Aug 10, 2023
12 min read
Learn more
Get monthly newsletter
All the most interesting from Mad Devs of the month in one short letter.
Streamline your development process
At Mad Devs, we understand that navigating the ever-evolving software development landscape can be challenging. That's why we offer expert consultation services to guide you through the intricacies of the development process.
Our seasoned consultants bring years of experience and a deep understanding of industry best practices to the table. Whether you're a startup looking to build your first app or an enterprise seeking to optimize your development workflows, we tailor our consultation to meet your unique needs.
---
Mad Devs' trusted sources: