Digest #1: May 2022
Investing in Solana projects, the cost of developing banking diligence, the growth of Clutch.co, and much more are already here!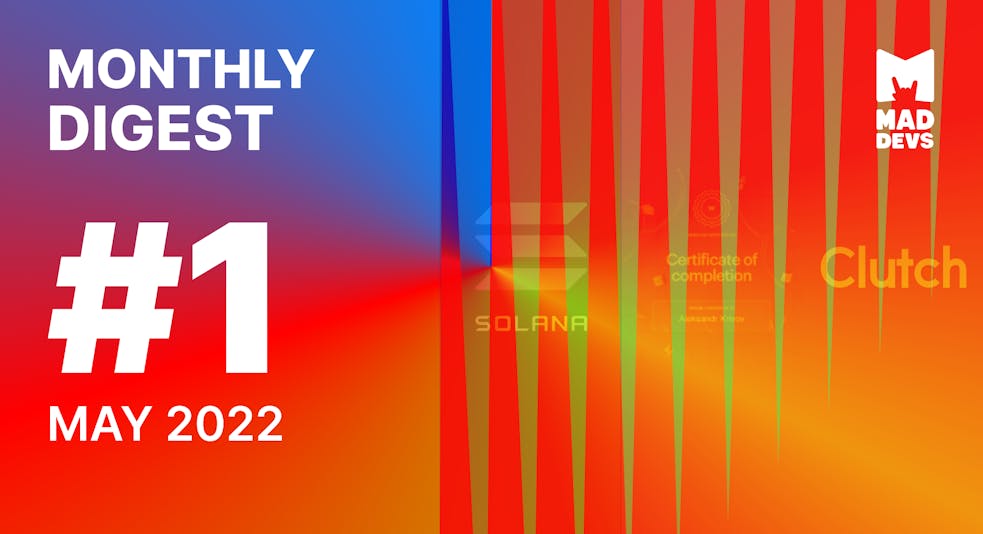 Top articles of the May from the blog:
Top Projects in The Solana That Investors Should Follow
Solana is a fast-growing contract cryptocurrency, and it is the second-largest blockchain with the lowest transaction costs. In 2021, it was one of the best-performing cryptocurrencies. It started in the 120th position in terms and finished in 5th, passing Cardano (ADA) and Polkadot (DOT). Learn about the best Solana projects you should pay attention to.
Created:

May 26, 2022
24 min read
Learn more
How Much Will It Cost You to Build a Banking App in 2023?
Today, banking as a service (BaaS) storm troops through the market. In an Insider's study, 89% of all respondents and 97% of millennials respondents said they used mobile banking. By 2028, the market for BaaS will reach $2,299.26 billion, up from $356.26 billion in 2020. Read more about BaaS: how to create it, what opportunities are provided, and how it may come to the rescue.
Created:

Nov 03, 2021
12 min read
Learn more
Software Engineering Reports: How to Write a Project Status Report
How do you explain to your customer what was made and will be made in a simple, fully comprehensive way? Learn more in the article on how to inform your customers in an accessible form about the software development process. Learn and download the checklist that will guide you in how to write reports without mistakes.
Created:

Sep 15, 2021
12 min read
Learn more
How to Increase the Speed of Decoding of Solidity Sourcemappings
Software development engineer Oleg Katkov faced a task related to work on solidity. Because of the slow work of nodes decoding, he decided to optimize source mappings analysis. The article describes what solutions reduced the optimization time from 40 to 5 seconds by effortlessly linking Python with efficient C libraries.
Created:

Apr 12, 2022
7 min read
Learn more
Get monthly newsletter
All the most interesting from Mad Devs of the month in one short letter.
We want to congratulate our Lead designer Aleksandr Krivov on his first certificate from Webflow!
Our specialists never stand in one place. They are constantly developing and expanding their knowledge in order to work better and better on our clients' projects.
Webflow is the way to visually design, build, and launch powerful websites without coding.
Learn more
---
Case study: The growth of Clutch.co
Clutch.co is one of the leading platforms whose mission is to provide unbiased reviews and ratings for IT, marketing, and business service providers. Recognized as the Most Trusted Business Reviews Platform.
Key results achieved by the Clutch.co and Mad Devs collaboration:
- Built service-oriented architecture
- Integrated single sign-on (SSO)
- Developed a repository for geographical data
- Optimized Clutch.co's infrastructure costs
- Implemented Matchmaking and Shortlist
- Improved website and widget performance
- Developed the Statistics service for intelligent decision making
- Implemented a connector between Clutch and HubSpot
At the moment, cooperation between Clutch.co and Mad Devs continues.
Explore Case Study